PRESS RELEASE: WORLD WRAPPED IN CHAIN
For two and a half years, Graham has been diligently working on "World Wrapped in Chain" a social restoration project which kicks off with a musical album. Graham was actively touring in the U.S. and preparing for a tour in the UK when the pandemic hit, causing his US tour dates to be canceled, and foreshadowing the cancellation of his UK tour, which inevitably was canceled twice. So, what did Graham do? What he does best! He retreated into the studio to create. And create he did! When he emerged from months on end in the studio writing thought-provoking lyrics, and creating amazing beats, the result was 15 refreshing, riveting conscious-minded "anthems". Each track portrays its own perspective of current events from the Pandemic, to Black Lives Matter protests against police brutality and injustices, to other societal systemic issues plaguing the world we live in today. WORLD WRAPPED IN CHAIN offers an up close view into cultural issues through its conscious-minded theme. Mixing Jazz, Rock, Funk, Hip Hop, Blues, Americana, Reggae, and just about every other genre you can think of. It's sure to be a classic for your collection. Graham wrote, performed, recorded, mixed, and played all instruments on the album, excluding the title track, "World Wrapped in Chain" which features Karl Anderson on drums. The album also includes the controversial D.C. rap artist, 5th Ward Butta, who is featured on the track "Pacemaker Peacemaker". The World Wrapped in Chain Social Restoration Project will also include a documentary, highlighting the making of the album during the Pandemic and beyond. A WWIC musical production may also be in the works in the future. Pre-sale available September 9th 2022. Official release is September 30th and will be available on all music platforms, including but not limited to: Spotify, YouTube, (etc). Donations and contributions to the World Wrapped in Chain project, can be made via any of the links below. Thanks to everyone who supports the music and arts!
http://cash.app/$GrahamWhorley
https://www.venmo.com/Graham-Whorley
BAND MEMBERS AND CREW OF THE UPCOMING LIVE SHOW "WORLD WRAPPED IN CHAIN" COMING SOON!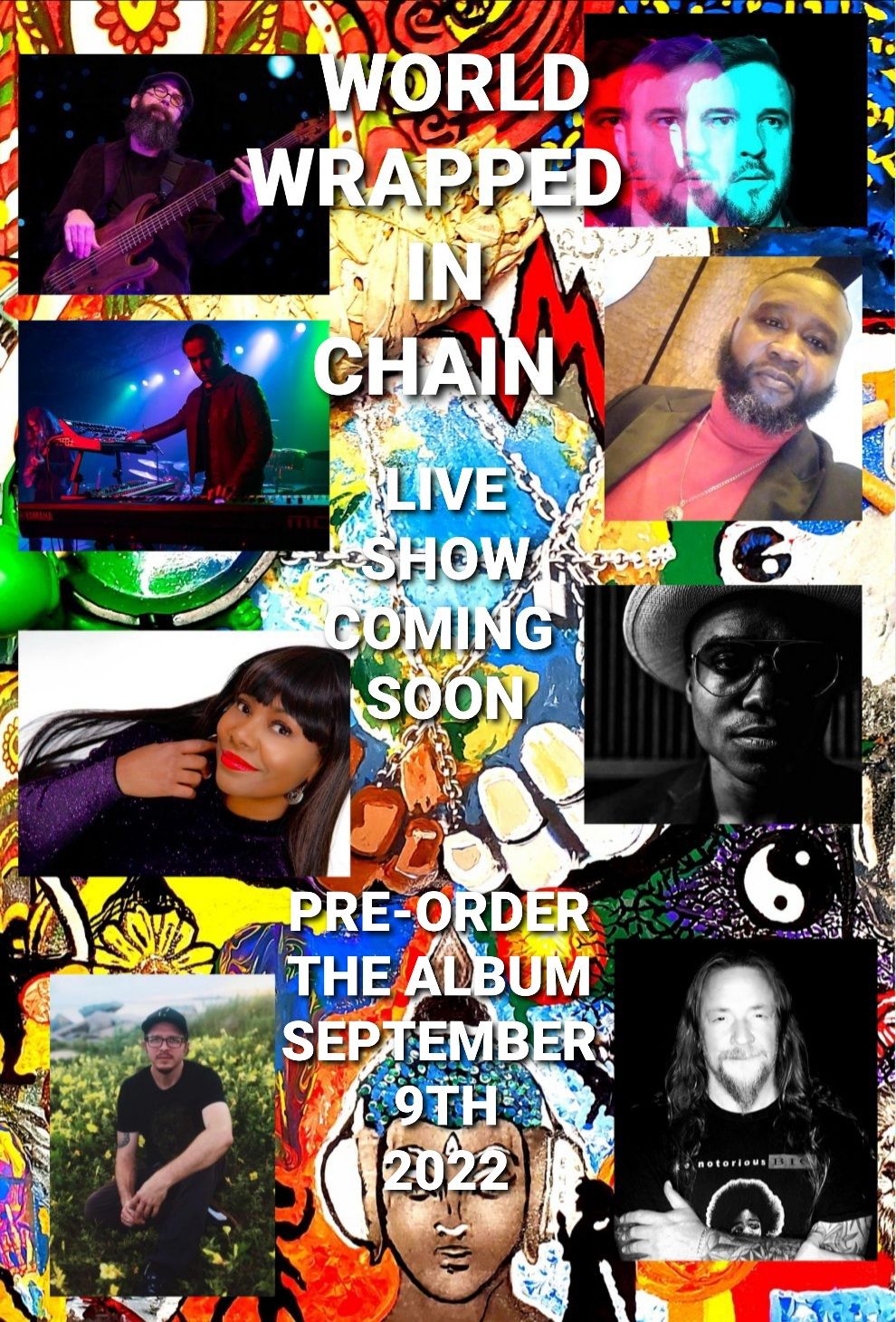 Share photo gallery
The New Album "World Wrapped In Chain" Is Out NOW!!!
Graham Whorley is a musician known for his soulful mastery of music and looping technology. 
Graham was born on the East Coast of America.  He soaked up the local gospel, country, jazz, folk, rock, hip hop, music he heard there and mixed it with his classical music training influences to create his own musical voice.  His following has grown organically from local, regional, national, and now worldwide.
(NPR) National Public Radio recognized his art and featured Graham in an episode of "Your Day". An international audience is now being exposed to the virtuosity of Graham Whorley, via his TEDTalk. Graham has  Released 8 CD's and multiple singles over his 29 year music career, which can be bought on I tunes or at, www.grahamwhorley.com. Graham has shared the stage over the last several years with Tim Reynolds of Dave Matthews Band, Michael Glabicki of Rusted Root, New Riders of The Purple Sage, Lee Oskar of WAR, Members of The Dirty Dozen Brass Band, Colonel Bruce Hampton, Brock Butler, Delbert McClinton, Keller Williams, Drink Small, and Dumpstaphunk  to name a few.
"If you follow the music scene, then it is almost impossible not to have heard of Graham Whorley at some point. The Virginia transplant performs more than 300 shows a year, either with a band or as a solo acoustic artist, and his guitar virtuosity is well-known even outside the confines of the Lowcountry." ~ The Post & Courier
"A master with a loop pedal, he's able to blend percussive acoustic rhythms with building, exploratory leads, creating a fusion that's difficult to sit still to." ~ The Charleston City Paper
"Whorley creates an impressive range of string, percussion, and vocal affects. At his most ambitious, his layering guitar and vocal parts sound like a full trio at work." ~ Metronome's, T. Ballard Lesemann
"Whorley seems to effortlessly connect with his listeners and leaves a deep and lasting impression, leaving fans waiting for more.  Wherever he goes, he has a following." ~ The Georgetown Times.
"One of Charleston finest musicians"~ Charleston Pour House 
NEW MUSIC BY GRAHAM WHORLEY